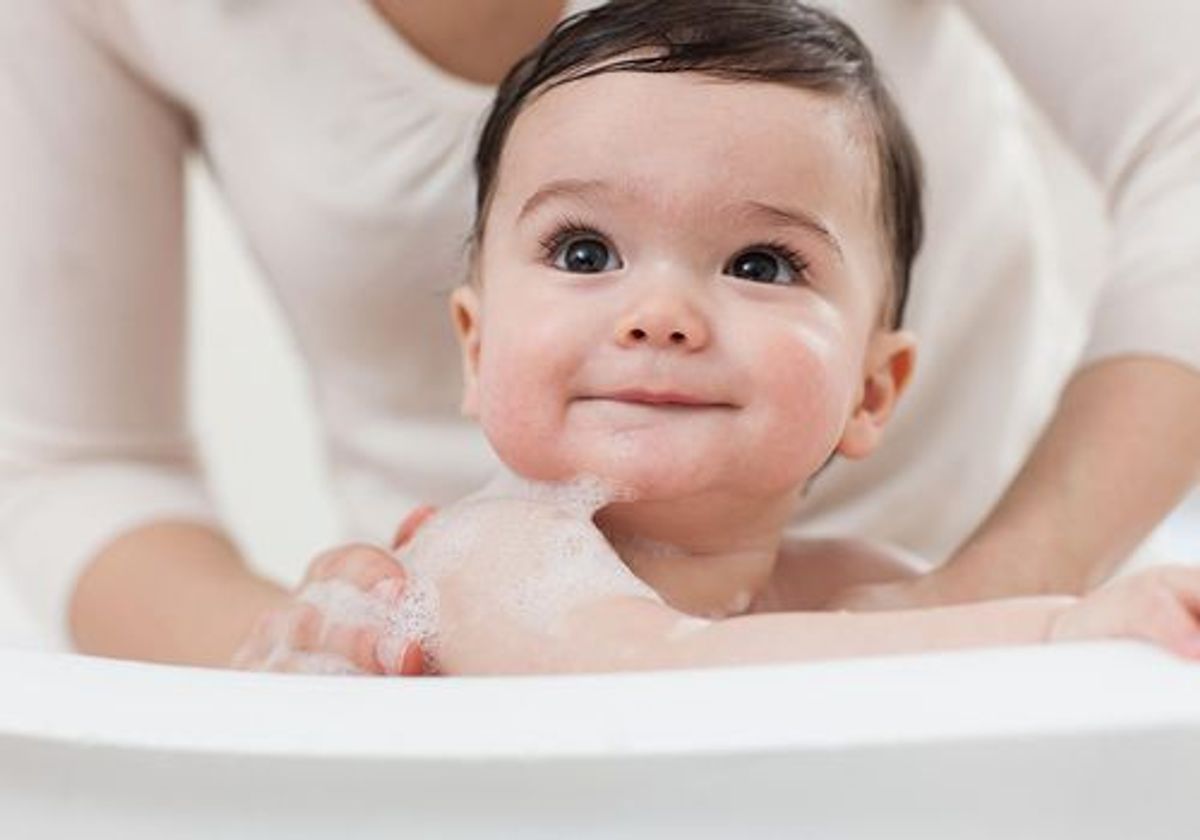 Wondering when and how to bathe your newborn? In this article, we share our tips for safely bathing your baby as well as our non-toxic personal care pick!
Here's the thing: babies don't really get dirty (that'll come later, believe us).
But they do need to be bathed, and what's more, bathtime can be a brilliant way to cue the end of the day for your little one.
But before you get started, there are a few things to know about bathing and grooming your newborn.

In this article, we'll go over:
How often you should wash your newborn baby

Tips for safely bathing your newborn baby

Ingredients to avoid in baby personal care products

The best non-toxic baby grooming products

The Tot baby grooming guides
Scroll down to learn more!
How often should I wash my newborn baby?

First up, your new newborn doesn't really need to be bathed – most babies can go up to a week without being washed.

Yep, even though you might think they "need" a wash after birth, babies are actually coated in a substance called vernix, which protects them from the amniotic fluid in utero. This coating, which looks a little like waxy white cheese, has immune-boosting properties, so leaving it on your baby's skin for as long as possible is a great way to ensure they stay protected.

If you can, try to delay your baby's bath for at least a few days, if not a full week.
When you are ready to bathe your baby, do a sponge bath first – at least until their umbilical cord stump has fallen off. Remember to get that sponge inside the folds of their skin (gently, of course!), and then dry these areas properly afterwards.

Your baby only needs to be bathed 2-3 times a week, but if your baby enjoys the bath (and most do!), feel free to do it nightly. It can be a great way to signal that the day is over and that it's time for bed.
Tips for safely bathing your newborn baby: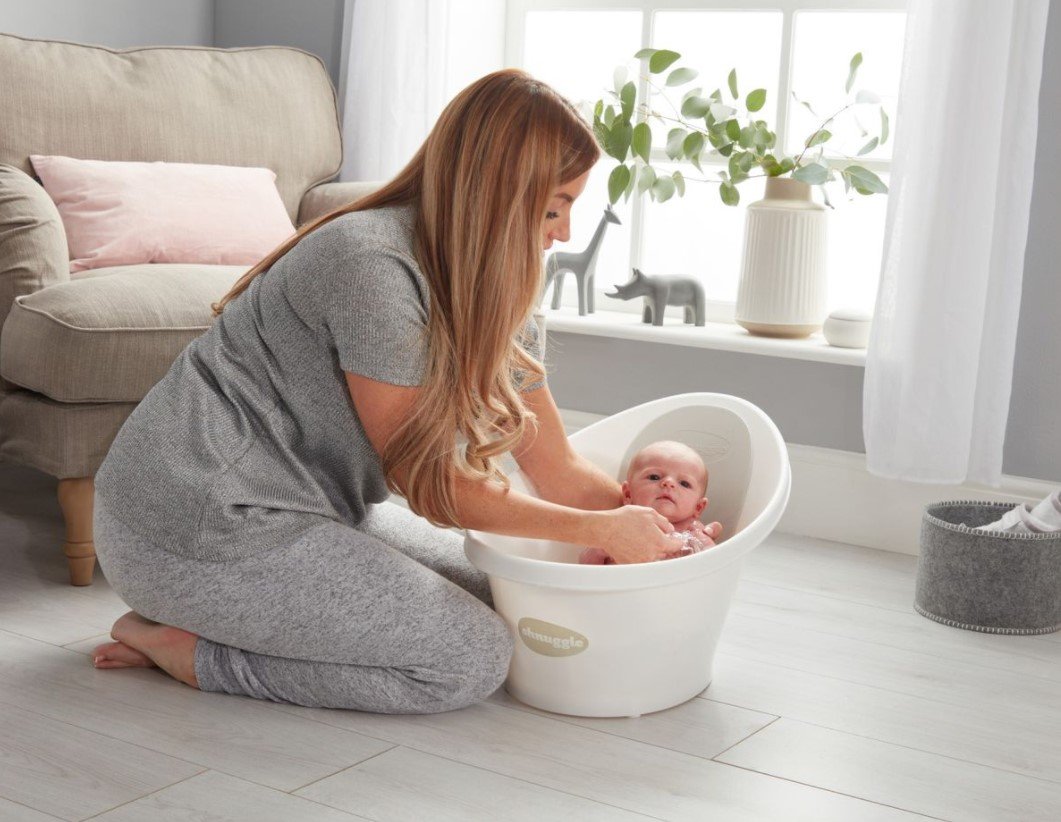 A few things to keep in mind when bathing your tot…

SET UP YOUR BATHING STATION

The last thing you want to do is get your baby in the bath and realize you've forgotten a towel or lotion. We suggest making sure you have the following next to your baby's bath or nearby before beginning:
Organic cotton or bamboo towel

Organic cotton or bamboo wash cloth

Non-toxic diapers and

cream

Organic cotton pajamas
ENSURE THE WATER TEMPERATURE IS WARM

Babies lose heat quickly, so you want the water to be around 75-80 degrees Fahrenheit. Use a water thermometer if you're unsure.

NEVER LEAVE YOUR BABY ALONE IN THE BATH.

Not even for a second.

HOP IN WITH THEM!
Babies love company in the bath. Feel free to hop in when you can and get some extra skin-on-skin time. You can even breastfeed in the bath, which many babies (and their moms) find relaxing.

#DGTIP
If you do get in with your baby, make sure someone else is there to get them out to avoid slips.


WASH FROM HEAD TO TOE
Wash your baby's face first, with a warm wet washcloth. (You can use a little soap if necessary, but avoid the eyes and nostrils.) Then wash the rest of their body, making sure to get into their nooks and crannies with a small amount of gentle baby body wash (using too much can irritate your tot's skin and leave it dry).

Wash little girls' bottoms front-to-back and clean the outside folds of their vulva – but don't clean inside the labia unless there's a real need. If your little boy's penis is uncircumcised, wipe it clean (there's no need to fold the skin back). If he is circumcised, simply wash the penis.

SKIP THE SHAMPOO
You don't really need to shampoo your baby's hair, unless they have a lot of it. If your baby does need thier hair washed, use a small amount of gentle baby shampoo (that's free of nasties and sulphates) and massage it all over your baby's head, taking care of the soft spot in the middle known as the fontenelle.

ONLY USE PRODUCTS THAT ARE GENTLE ON YOUR BABY'S SKIN
Ingredients to avoid in baby personal care products

When shopping for any type of product that goes on your baby's skin, make sure that you read the ingredients list.

This is particularly important when shopping for babies because they have thinner skin to allow for rapid growth. This means chemicals are absorbed into their bloodstream much more easily.

Below is a list of ingredients you should avoid in all personal care products:

Parabens: Parabens are a group of chemicals used primarily as a preservative in skincare products. Any product that contains water as an ingredient typically needs a preservative to extend shelf life and prevent the growth of mold and bacteria. The issue here is that these parabens have shown to have estrogen mimicking properties. On labels any ingredient ending with "-paraben" is part of this group of chemicals so it's best to be avoided.

Fragrance/Parfum: Phthalates are never listed on any packaging. They are disguised as "fragrance" or "parfum" on a product label. Phthalates are used to bind scents to a product and typically if there are no naturally occurring scents in a product such as lavender oil or shea butter, product makers need phthalates to make that baby powder scent stick. Phthalates also have estrogenic properties which, according to many independent studies, disrupt hormone balances in the body.

PEGs (Polyethylene Glycol): Avoid products with synthetic ethoxylated ingredients including those with strange names like myreth, oleth, laureth, ceteareth and other "eth", PEG, polyethylene, polyethylene glycol, polyoxyethylene, or oxynol. These can be contaminated in the processing with 1,4 dioxane which is classified as a potential human carcinogen. It's best to stay away from body care products in general that are loaded with petroleum-based ingredients.

Propylene Glycol: Propylene glycol is a thickening/filling agent derived from glycerin and is in everything from store-bought hair dyes to many of your natural deodorants. Propylene glycol has been determined as "generally safe for use" by the FDA for both food and cosmetic use, but something that is also used to de-ice airplanes is probably best left off your baby's skin.

SLS & SLES: Sodium Laureth Sulfate, sometimes referred to as Sodium Lauryl Ether Sulfate is used as foaming agents in cleaning products, detergents, shampoos, hand soaps, body wash and more. They are a known skin irritant and run the risk of being contaminated with the possible human carcinogen 1,4 dioxane.

Your baby's skin is so pure, delicate and sensitive. To protect it, choose products with natural, organic ingredients free of nasties like synthetic fragrances and alcohol.